This site features ads and affiliate content. Please see our disclosure.
7 Reasons Why You Are Not Losing Weight On the Keto Diet
There is no doubt about the overwhelming testimonies of fellow ketogenic diet followers about the health and weight loss benefits of going low carb.
Through this diet, your body practically turns into a fat burning machine.
The keto diet has been shown time and time again to actually help people lose weight effectively.
Not only this, but a keto diet has proved to be beneficial against cancer, epilepsy, Alzheimer's disease, and diabetes.
However, if you have been on the keto journey and haven't seen any weight loss results, you may be wondering if you ever will.
You may have even gained weight much to your dismay.
Well, a keto diet forces our body to use fat as the main source of energy instead of glucose.
As you might know, without glucose your body does not have any highs or lows.
The level of your blood sugar stays stable, and your body also burns fat at a rapid rate.
So you should be losing weight on the keto diet.
If you are not seeing any results, it could be because of the following mistakes or misinformation.
7 Reasons Why You Are Not Losing Weight On the Keto Diet
The first thing you will want to do is make sure that your body is indeed in a state of ketosis.
You can usually tell when you experience keto flu symptoms as most people do.
However, a great way to check your ketone levels at home by using a blood ketone meter. 
If you find that you are not in ketosis after checking your blood ketone levels, then you may want to look at the following possible causes.
The truth is that some people cannot lay off of the carbs no matter how hard they try.
For starters, various "healthy" drinks and packaged "low carb" snacks come with a decent dose of carbohydrate and sugar content.
Whenever you need a snack, be sure it's keto approved.
Be wary of keto supplements that are not suitable for a ketogenic diet due to the various additives they contain.
If you want to use a keto supplement to get your body into ketosis faster, Perfect Keto Ketone Supplement is a high-quality supplement that's free of sugar, gums, and other nasty additives.
Add it to your morning coffee, smoothie, or simply mix it with water. Get 15% off with coupon code HNL15 for a limited time and enjoy your delicious supplement!
Buy Perfect Keto Ketone Supplement
Many vegetables such as cauliflower, cabbage, broccoli, and sprouts also contain carbs, albeit a small number.
However, all carbs add up. Keep this in mind when cooking your meals.
The problem with a serving size
One huge problem with losing weight on a keto diet is that most of us underestimate how much we actually eat.
When tracking what you are eating, a serving size of almond pancakes may not be what you thought it would be.
Keep track of what you are eating and how much of it is equal to ONE serving size, so that you can track carb consumption correctly.
How to keep track of your carbohydrate consumption
For an easier way to monitor your macros per serving size without having to do all the calculations, try a keto meal plan that's already been done for you.
With the Keto In Five Meals, you will know the net carb count of each meal before you cook it and eat it.
Plus, each meal contains 5 or fewer carbs so you know you won't be overeating carbs.
Then, take it a step further and actually write down carb intake daily for each meal.
You can use our Keto Diet Weight Loss Planner to do this!
Or simply use your notepad or phone to document your numbers.
Plan Your Meals, Track Your Weight Loss and Keto Macros, and so much more using the only Keto Diet Planner you need! 
Do this and I am certain you will be able to stick to your carb limit every single day, and that will give you the best chance of seeing results quickly.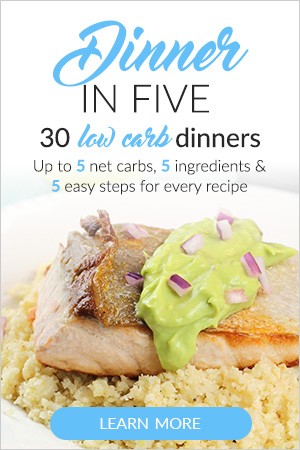 Keto In Five is our favorite since it lets you know the net carb per serving and all the recipes require no more than 5 ingredients! 
This meal plan is especially suitable if you lead a busy lifestyle like us.
Subscribe to get updates, freebies, and weight loss tips!
Overeating high-fat snacks
Another reason why your keto diet might not be working may be because you are overdoing it on fats.
The great thing about the ketogenic diet is that you can consume a healthy amount of fats per day and it actually helps you lose weight.
However, if you overdo it, you may find that you are consuming more calories in fats than you actually need!
Nuts are a good example of when this can occur. Nuts are high in calories and fats but are not completely satiating. 
About 70% of calories in almonds come from fat. Nuts have this ability to make you feel empty, even when you have more than a handful of them.
So if you are not sticking to the right fat macros for your body weight, it may be the reason your weight loss is on hold.
I also recommend reading this article which explains how to estimate the amount of fat in many types of food, including avocados, nuts, animal sources and more.
Looking for simple 5-ingredient recipes to cover your keto breakfast, lunch, dinner and even dessert? We highly recommend Keto In Five. Give it to me now!
I can personally vouch for this. Sleep is so crucial to many aspects of your health, not just weight loss.
When your sleeping pattern is not on the right track, a few things happen.
First, your eating patterns may change leading you to overeat and even cheat on your keto diet plan.
This will then throw you out of ketosis.
Lack of sleep can also induce hunger pangs which can contribute to making you will feel demotivated and sluggish.
So, it's no secret that a good night's rest will be supporting your body into becoming the fat burning machine it's meant to become on the keto diet.
Overeating dairy products
Having dairy products can cause a weight loss plateau on the ketogenic diet.
Despite being low on carbs, most dairy products are also high in protein.
Too much protein can interfere with effective fat burning on a low carb high fat diet.
If you are also having milk, it's important to remember that milk is not keto friendly since it contains lactose.
Lactose is a form of sugar that adds to your daily carbohydrate intake.
Add to that, if you are lactose intolerant, you may become bloated and feel bigger in your midsection, making you feel like you are not losing an inch of body fat.
Instead, try substituting milk with non-dairy products such as almond milk.
If you like your coffee with milk, try almond milk, cream, or butter. 
You Might Also Like:
Ketogenic Diet – The Ultimate Guide for Beginners
10 Keto Diet Tips for Effective Weight Loss
Top 10 Best Keto Snacks to Buy On Amazon
Now, exercise is not absolutely necessary for weight loss on the ketogenic diet.
Many people lose weight without exercising vigorously. Though you should stay active, the ketogenic diet works fine without it.
However, if you find that you lost a few pounds then hit a weight loss plateau, introducing gentle cardio or strength training may kick weight loss into gear.
It's important to note that resistance training will help maintain muscle mass while you're on the keto diet.
You will feel and look great when you combine moderate exercise with a low carb high-fat diet.
Not drinking enough water
The most important component of burning calories is to have loads of water. 
That means drinking at least 8-12 glasses of water daily. Water helps your body function at optimal levels and to efficiently lose weight.
The last thing you want to deal with on the keto diet is the symptoms of dehydration which are unpleasant, to say the least.
Weight loss plateau on the keto diet
Many people experience weight loss plateau after losing a certain amount of weight in the first 4 to 6 weeks.
This can happen for many reasons including the reasons mentioned above.
How to overcome the weight loss plateau?
In order to break through a weight loss plateau, try to ensure you are strictly staying within your macros, as well as considering the following tips. 
To avoid underestimating the amount of food (and carbohydrates) you eat, try tracking your intake on Myfitnesspal or a similar app. 
This is an easy and efficient way to keep track of your macronutrients and to check if you are staying within your daily limits.
Apps like Myfitnesspal enable you to keep track of calories, protein, carbs, and fat in whatever you eat.
At times, when you are having difficulty losing weight, your protein intake may be too low.
Although we mentioned that having too much protein can interfere with weight loss on the keto diet, lack of protein can also have the same effect.
Protein is the perfect antidote to boost metabolic rate and can even increase calorie burning by almost 20-30%.
Furthermore, protein helps stimulate the production of hormones like PYY, which can help reduce appetite.
You get the point. Track your protein intake and if you are not eating enough of it, introduce high protein foods such as red meat, chicken, and eggs.
If you enjoy snack bars, these Keto Bars have a good serving of protein along with keto-friendly ingredients in them. Read my full review here.
Fasting has become one of the most important aspects of losing weight and can be extremely effective when utilized on the ketogenic diet.
Intermittent fasting refers to going without food for long periods of time.
A typically recommended length is between 12 and 16 hours of fasting.
For example, you may choose to eat dinner at 8 PM and fast all night (easy if you sleep!) and break your fast at midday.
You may fast up to three times a week to see a boost in weight loss.
Wrapping it up!
Weight loss is a challenge for some people on the ketogenic diet, but it is usually because they're not following the rules!
We hope some of these tips have shed insight into what may be preventing you from shedding pounds on the keto diet.
But, whatever you do, do not lose hope and give up. If you have any questions, feel free to ask in the comment section or email us.
Try out the tips offered here and let us know what works for you!
PIN this image to save for later!