This site features ads and affiliate content. Please see our disclosure.
15 Keto Diet Survival Tips for Beginners To Lose Over 20 Pounds
Updated: June 3, 2019 
Are you thinking of joining the thousands of ketogenic dieters that are shedding pounds of body fat? Perhaps, you have already started on your keto journey.
It does seem extreme to cut carb levels down to 20g or less, but the low carb high fat diet is actually effective for weight loss.
Besides being dubbed an easy way to lose weight, being in a state of ketosis has been shown to have numerous health benefits (though, studies continue to reveal the pros and cons of keto dieting). 
In addition to burning fat, you may experience improved concentration and focus, improved blood sugar control, and a steady level of long-lasting energy.
Who's to complain about those side effects?
What makes the ketogenic diet slightly different from other diets is that it does allow for some indulgence of favorite foods. For instance, you are allowed to use cream, butter, and even indulge in a good helping of bacon.
However, the ketogenic diet does come with a few challenges as expected. You will have to forgo all your favorite carb-dense meals.
We're talking pasta, rice, bread, biscuits, processed food and most importantly refined and high carb sugars. (Keep reading for a great little hack we will share for eating bread while on keto).
So how do you make sure that you stick to this way of eating without breaking the rules and risking a weight loss plateau?
How do you eat keto effectively and burn fat like a machine? If done correctly, a low carb high fat diet can promote rapid weight loss (especially around the waistline) of more than 20 pounds in just a matter of weeks.
So here are the 15 awesome keto tips and hacks we know will help you to succeed when you start a ketogenic diet.
15 Keto Diet Survival Tips for Beginners To Lose Over 20 Pounds
1. Do your research
Well, if you're reading this, then chances are you are curious and you are in pursuit of information before you start. Or maybe, you are struggling to reach ketosis and/or lose weight on the keto diet.
When starting a ketogenic diet, I cannot over-emphasize the importance of acquiring the right information, reading, and preparation.
Get to know what foods are keto-friendly, what foods to avoid, and how to prep your meals ahead of time.
This is also a good time to decide on whether you are going to do lazy keto or traditional strict keto.
If you don't know what lazy keto is, it basically refers to solely keeping your carb intake below 20g and not worrying about tracking your other macronutrients.
Some people see success with this method, however, for best results, we recommend doing it the right way.
This will mean you will need to calculate your macros based on your calorie needs. Don't know how to do this? Follow the instructions in THIS 28-Day Keto Challenge.
Once you have calculated your macros, you can then track them on Myfitnesspal or a similar app, which is free to download on your smartphone.
So, go ahead and do your research (or invest in a good keto resource PDF – here is my favorite) to set yourself up for success before you get started.
Want simple 5-ingredient recipes with only 5 net carbs per meal? Try Keto In Five (the full bundle) today! Or get your preferred meal of the day separately (Breakfast, Lunch, Dinner or Dessert).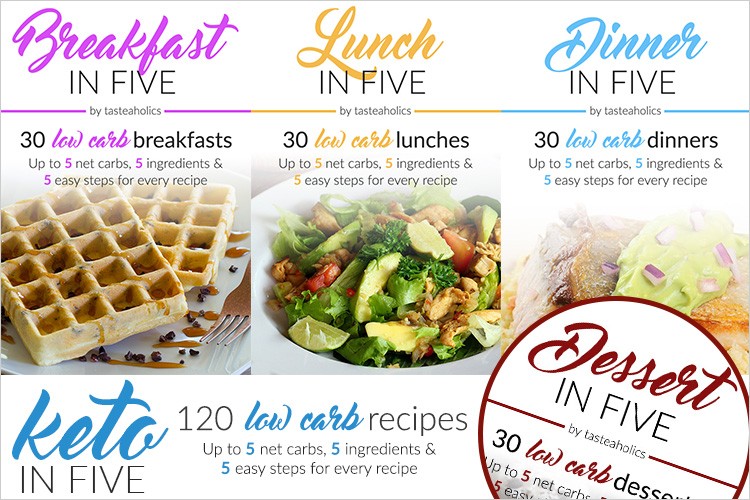 2. Purge your pantry
Chances are, your pantry (and refrigerator) is packed full of unhealthy and not-so-keto-friendly foods. If so, make a decision right now to remove those sugary or carb dense snacks and pantry items today.
Of course, you may not be able to do this if your family (or whoever you live with) is not following a ketogenic lifestyle.
In that case, you can skip right ahead to stocking your pantry and fridge with keto friendly groceries just for you. And simply ignore the other stuff in there.
There are a few staples you will use almost every time you cook or bake on a low carb diet.
It also helps to have certain kitchen gadgets such as a spiralizer to make veggie noodles using zucchini, eggplant and other yummy veggies. 
Here is a keto pantry and kitchen essentials list you can save for later.
3. Eat the right macros 
Once you get started, keep in mind that even if you go down the lazy keto route, you will need to track how many carbs you're eating per day.
Eventually, you will start to know without having to track everything.
But when starting as a beginner, it's highly recommended that you log what you are eating.
When cooking or baking keto goods, try to stick to recipes that provide the macronutrient profile per serving.
Want an easy way to calculate your keto macros? Try this free this free Keto Macro Calculator.
That way, you simply write down the net carbs, fat, and protein per serving when you eat it. 
It also makes it easier when planning ahead for the next day or even for the week.
You will be able to tally up the total carb count for breakfast, lunch, dinner, and snacks in minutes. I use The Keto Diet Planner to do this as well as track weight loss measurements. It's so handy!
4. Maintain high fat intake
Now, the hardest part for a lot of people is increasing fat intake. The reason for this is because most of us have been told over decades that fats are bad for you.
If you are afraid of eating high fat foods because you think you'll gain weight, then it will be a challenge for you to eat a high fat diet.
The keto diet is about transitioning your body to use fat for energy instead of glucose. That's where the weight loss magic occurs. 
So embrace the heavy cream, nuts, avocado, and bacon (while also sticking to your macro requirements, of course).
If you still find yourself struggling to meet your fat requirement, try making quick and easy high-fat snacks like fat bombs.
They're easy, satiating snacks that will keep your cravings under control.
5. Try exogenous ketone supplements
Keto supplements (specifically exogenous ketones) help increase ketone levels in the blood to get your body into ketosis easily.
Remember, not all keto supplements and keto products are created equal. Most of these products contain fillers, sugars, and other unnecessary additives. 
If you decide to take exogenous ketones, choose a high-quality product like Perfect Keto to get the most out of your supplement.
THIS supplement is great because you can add it to your smoothies, your coffee or just use water to make a tasty drink and set your body up for optimal weight loss.
And since it is free from gums and fillers, and only uses keto-friendly sweeteners like monk fruit, Perfect Keto tastes better and is more effective for getting your body into a state of ketosis.
6. Keep your electrolytes up
On a ketogenic diet, the body is depleted off of carbohydrates and you lose water and electrolytes fast. 
The keto flu characterized by unpleasant flu-like symptoms is a result of this massive change in your body.
Keeping up your water and electrolytes intake is going to help ward off or relieve the symptoms of keto flu.
7. Meal plan
Meal planning is one of the most important things you can do while on a keto diet.
You will know, without a doubt, that keto snacks are not easily sourced in your local supermarket.
And when you're on the go, working or studying, you will want to be prepared with the right snacks and homemade meals.
Take time to save or print keto versions of your favorite meals and snacks. Then do your grocery shopping based on the recipes for the rest of the week. 
If you are used to eating a lot of pre-packaged snacks, then you might find it helpful to purchase keto snacks to have on the go.
You can also buy a keto cookbook or try out a simple meal plan with recipes.
Our favorite is the Keto In Five bundle, which includes breakfast, lunch, dinner and dessert recipes – all using 5 or fewer ingredients per recipe, as well as containing no more than 5g net carbs per serving.
Keto In Five makes it easier to cook keto friendly meals quickly and to keep track of your macros easily. 

You can also get the recipes separately instead of buying the whole bundle:
8. Find alternatives for your favorite food
One thing I absolutely love is bread. In fact, I enjoy all kinds of freshly baked goods and love baking too. 
So here is a sneaky little trick… Make any one of these delicious bread recipes anytime you crave carb-rich food. (I love the banana bread recipe found in here)!
Besides keto bread and keto dessert, you can try making cauliflower rice instead of traditional rice, zucchini noodles instead of spaghetti/noodles, and you can substitute most desserts with keto-friendly ones.
Case in point, whether you're a bread or pasta lover, or just have a sweet tooth, there is always a delicious low carb alternative available.
But it's important to prepare ahead of time so that you can easily overcome any cravings and avoid falling out of ketosis.
9. Try intermittent fasting
Intermittent fasting and keto, when combined, are like weight loss diet on steroids. If you happen to go through a weight loss plateau or just want to boost weight loss on the keto diet, try intermittent fasting.
Intermittent fasting involves spacing out meals or skipping a meal to fast for 8 hours or more.
Of course, there are different levels of fasting, and you can choose to start small and gradually increase the length of time spent fasting. This Keto eBook covers everything related to losing weight with intermittent fasting on the keto diet. 
10. Snacks, snacks, snacks
If there is one thing that would throw anybody off of their weight loss bandwagon, it's snacks. 
Let's face it. We all love snacks. Whether you eat while you're binge-watching Netflix or hanging out with friends, snacks are so satisfying and fun to indulge in. 
So why let the keto diet get in the way of enjoying those delicious morsels of snacks and appetizers when you can prepare or purchase ketosis-inducing snacks?
We love this list of tasty snacks that are super easy to make. There is also this awesome list of scrumptious low carb snacks you can buy and keep for convenience's sake. Then, there is this Keto Snack Cookbook (77% off today) so you can sample every delicious morsel of keto snacks possible.
Yep. That's snacks, snacks, and more snacks. And there is no need to feel guilty about enjoying your favorite keto snacks, especially when it helps you keep hunger at bay, and lose weight.
11. Enjoy the little things
Just because you're on a diet, it doesn't mean you have to skip date nights or girls' night out (or other social gatherings). Instead, just be prepared ahead of time, and get ready to enjoy the time with friends.
If you usually drink alcoholic beverages, don't leave the house without planning what you will drink. Here is a list of keto-friendly adult beverages for you.
If you are planning to eat out, check the menu before you visit the restaurant for keto-friendly meals or if you are deciding on where to eat, then, select an eatery that has suitable food.
Being able to enjoy a meal (or drinks) with people you like can become a big part of helping you stay motivated and succeeding on the keto diet.  
12. Learn to love your veggies
While eating bacon is a very welcome feature of the keto diet, it is so much more important that your diet consists of plenty of green vegetables like kale, broccoli, spinach, and cauliflower.
Vegetables are not only great for your health (as you are well aware), but they also boost your metabolism and help you accelerate weight loss. Most veggies are high in antioxidants and fiber, making them ideal for weight loss.
So, don't hesitate to stock up and buy in bulk when it comes to veggies. You can freeze all your vegetables, even your leafy greens like spinach. Buying in bulk will save you money and time spent on shopping. 
A good way to eat more veggies is to roast a big tray of cruciferous vegetables like cauliflower and broccoli and use this as the base for soups, stir-fry, and curry throughout the week.
Add a cup of spinach to any of these meals. And enjoy the boost of vitamins and minerals, and energy and vitality 🙂
13. Stay accountable
Just like any lifestyle change especially one related to diet, you will want to have a friend or family member that will keep you accountable.
If you are lucky, you might already have a friend or partner who is doing this with you.
If not, join a keto diet support group or ask one of your friends to hold you accountable.
It's easy to start a diet, but it's hard to stick it out. However, when you can count on another trusted human being to cheer you on, it will make the journey easier and more enjoyable.
14. Exercise
One of the best things about the keto diet is that you do not have to start a vigorous exercise program to see the pounds drop off.
However, a sedentary lifestyle is never encouraged.
In fact, if you begin to experience a weight loss plateau, it's recommended that you begin strength training or moderate cardio workouts.
So keep moving even if it means taking a 10-minute walk every day. You will feel better for doing it.
15. Change your mindset
This step is easier said than done, and here is why.
You may have heard or thought about mindset in the past and how it affects our behavior and feelings. But if you're like most people, your thoughts may be:
"Well, that doesn't apply to me" OR
"I'm a positive person most of the time" OR
"That stuff is all too wishy-washy for me. I don't need it."
But I am here to tell you:
Your thought patterns can make or break your weight loss journey on any diet including the keto diet. 
Your mindset can even affect all aspects of your life – for better or worse. Your relationships, your health, your happiness.
Many people change their life simply by changing their mindset.
Here is a Mindvalley video on mindset and just how powerful it can be in changing your life for the better:
Self Confidence: How To Cure The Biggest Disease Affecting Humanity
Learn to Accept Yourself As You Are
Learning to accept yourself doesn't mean ignoring things you need to work on or improve. It doesn't mean settling for less.
But if you learn to accept and love yourself, you start losing weight from a place of positivity and you attract success. I highly recommend you watch attend this free masterclass >>
https://www.mindvalley.com/uncompromised-life/masterclass/invite

If you've never fully worked on your mindset, I also recommend this 21-day Keto Challenge (this is not a diet plan). The 21-Day Keto Challenge simply helps you learn to be more confident and feel happier in your skin by accepting yourself. And it's heaps of fun!
By doing this, you fuel your motivation to lose weight, and it all comes from a place of empowerment, instead of insecurity and low self-esteem.
Click here to start your 21-day positive mindset journey.

Wrapping it up
The decision to change your eating habits is not an easy one.
We hope these beginner keto diet tips have given you a little insight on how to effectively lose weight.
If you loved these tips, share the love by saving the PIN on Pinterest or sharing on any social media platform.
Save this PIN for later!