This site features ads and affiliate content. Please see our disclosure.
15 Healthy Low Carb Pasta and Noodle Recipes for Ketogenic Diet
Everyone that loves to eat pasta and noodles will tell you it's quite a challenge to give it up completely.
What's not to love about a creamy pasta dish or an indulgent cheesy beef lasagne? Nada – except maybe the carb content.
The flavors and variety are limitless when it comes to carb-dense dishes like pasta and noodles.
However, they're not always suitable for keto dieters considering the amount of carbohydrate content found in a mere serving of pasta.
Nevertheless, like most dishes, there is always an alternative that's just as good, if not better!
In this post, we share 15 keto pasta and noodle recipes that are low carb, sugar-free and delicious.
This post contains affiliate links. See full disclosure policy here.
Keto-friendly pasta and noodle ideas
Now, you may be wondering how do you exactly make low carb pasta meals and what can possibly replace the traditional variety.
Well, there are various creative ways to mimic the texture and taste of traditional noodles or pasta by simply using keto friendly ingredients.
The recipes on this list include the use of vegetables, shirataki noodles, and lupin flour.
Here is a breakdown of how and why these ingredients are used on the low carb high fat diet.
Vegetables and fruit
Vegetables (zucchini, cabbage, cauliflower) and fruit like eggplants are the best options for making ketogenic diet friendly spaghetti and pasta dishes.
They're highly valuable due to their nutrition profile which you want to prioritize on a keto diet.
You can easily spiralize vegetables like zucchini. It may be a little more challenging to spiralize eggplant but it is do-able (and even tastier).
Cabbage and cauliflower are great for baked keto pasta dishes and casseroles that are especially great as make-ahead meals.
Grab a good spiralizer like this one and you will be all set to start experimenting with various keto spaghetti dishes.
Click Here To See It On Amazon
Plan Your Meals, Track Your Weight Loss and Keto Macros, and so much more using the only Keto Diet Planner you need! 
Shirataki noodles
If you don't want to get into spiralizing zucchini or just need other ready-made options,  shirataki noodles are the best low carb spaghetti and noodle alternative.
Click Here To See It On Amazon
Made from the root of the konjac yam and commonly found in Japanese cuisine, shirataki noodles are gluten-free and carb free.
Shirataki noodles (or Miracle Noodles) are perfect for the keto diet since they're filling, high in fiber and totally versatile.
So you can eat them with any of your favorite pasta accompaniments.
Lupin flour
Lupin flour is a legume made from lupin beans that's not used nearly enough considering it's health benefits.
It's high in protein and dietary fiber as well as being high in antioxidants and certain minerals.
Lupin flour can be used to make any baked good without the added carbohydrates and gluten.
Keep in mind that this gluten-free flour is quite low in fats, so use in moderation especially if you need to up your intake of fats.
You will want to eat more high-fat dishes if you're struggling to keep your fat macros up.
It's important to also remember that the ketogenic diet is most effective with a moderate amount of protein intake, and it's easy to go overboard in your protein macros with this type of flour.
When selecting lupin flour, be sure to purchase 100% lupin flour to avoid unnecessary additives and carb content.
Now that we've covered the commonly used ingredients, here are 15 healthy low carb pasta and noodle recipes to try out for your next delicious meal.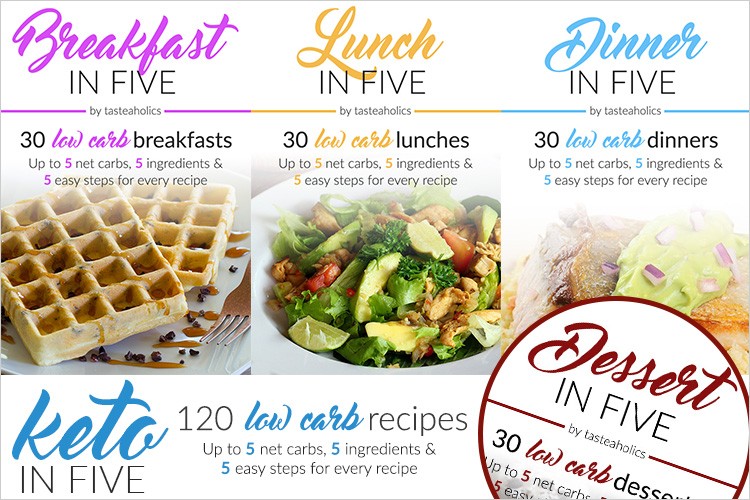 15 Healthy Low Carb Pasta and Noodle Recipes for Ketogenic Diet
Keto Low Carb Pasta Noodles
Recipe- Pasta Noodles– Eat Well
You need only two ingredients (shredded mozzarella cheese and egg yolk) to cook this delicious pasta noodles. Enjoy this dish without compromising your low carb state.
Keto Pumpkin Carbonara
Recipe- Keto Pump Carbonara– Ruled Me
Try this tasty dish cooked using shirataki noodles and we guarantee that you will lick the bowl 🙂
Low Carb Keto Lupin Flour Fettuccine Noodles
Recipe- Keto Lupin Flour Noodles– Resolution Eats
This recipe uses lupin flour and it's a genius idea because the noodles turn out almost like the real thing in taste and texture.
Using a combination of common keto pantry ingredients such as cream cheese and eggs, it's a simple low carb dish to make.
Get Your Body Into Ketosis Faster – Try Perfect Keto
Keto Carbonara Pasta
Recipe- Keto Carbonara Pasta– Fat for Weight Loss
Carbonara is one of the best pasta flavors and it's a good thing that the carbonara sauce in itself is actually keto friendly.
It consists of typical high fat keto staples such as eggs, bacon, cream, and cheese.
With only 4g net carb per serving, this keto carbonara recipe definitely beats the traditional version.
Looking for simple 5-ingredient recipes to cover your keto breakfast, lunch, dinner and even dessert? We highly recommend Keto In Five. Give it to me now!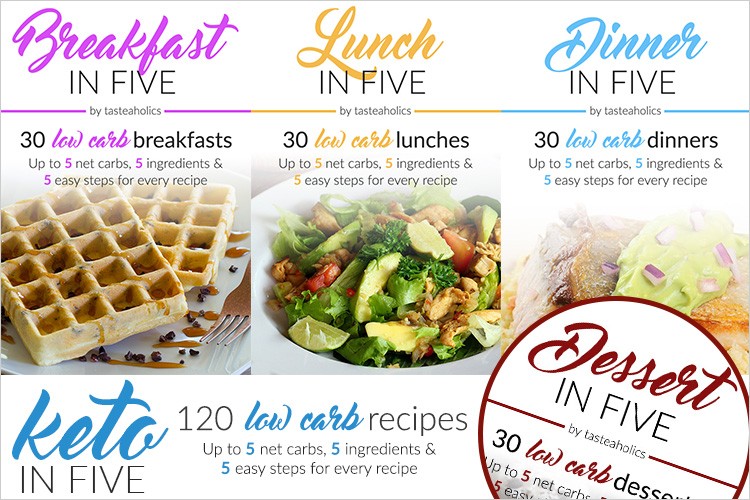 Garlic Shrimp Zoodles
Recipe- Shrimp Zoodles– Salt and Lavender
If you want to combine taste and simplicity in a single dish, then try this super easy to make recipe. It should take you 15 minutes to get it ready!
Keto Creamy Avocado Pasta with Shirataki
Recipe- Keto Creamy Avocado Pasta– Happy Keto
This recipe requires very basic ingredients but you will still end up cooking a tasty dish that you will love to eat.
Avocado is a great addition to a keto pasta dish.
Cabbage Noodles
Recipe- Cabbage Noodles– Maria Mind Body Health
This keto noodle recipe combines cheese, cabbage, and shirataki noodles to create a healthy dish the entire family will enjoy.
Cabbage Noodle Tuna Casserole
Recipe- Cabbage Noodle Tuna– Peace Love and Low Carb
Try this gluten-free recipe with cabbage making up the base for a good keto casserole.
Eating this dish will ensure you don't miss pasta again while on the low-carb diet.
Pillowy Soft Ricotta Gnocchi 
Recipe- Pillowy Soft Ricotta Gnocchi– Gnom-Gnom
Forget the potatoes in your old favorite gnocchi!
This crispy and tasty ricotta gnocchi will become your favorite keto pasta alternative from the day you eat them.
Using a combination of almond and coconut flour along with delicious ricotta, it's a must-try keto gnocchi recipe!
Spinach & Ricotta Fried Ravioli
Recipe- Pillowy Soft Spinach Ravioli– Gnom-Gnom
Never thought you'd here ravioli and keto in the same sentence did ya?
This ravioli is filled with a heavenly flavorsome combo of toasted pine nuts, spinach, and ricotta.
Using similar ingredients as the ones she used in the keto gnocchi recipe, Paola shows you how to DIY keto ravioli.
Low Carb Cream Cheese Zucchini Spaghetti
Recipe- Cream Cheese Zucchini– Buns in My Oven
If you love a creamy pasta dish that's just as tasty as the one from your local Italian restaurant, this cream cheese zucchini recipe is for you.
It's a great reason to invest in a good spiralizer in our opinion.
Low Carb Pasta Alfredo with Sausage
Recipe- Low Carb Pasta– Keto Connect
Want to up your fat intake in the most delicious way ever?
Make this low carb alfredo pasta using Italian sausage, cheese, and cream.
The shirataki noodles in this recipe go perfectly with the creamy flavors in this dish.
Keto Japanese Mushroom Pasta with Shirataki
Recipe- Keto Japanese Mushroom Pasta– Happy Keto
Mushroom lovers unite! Here is a wonderfully simple yet delightful mushroom pasta that will make you look like a chef when you're not.
Easy Keto Lasagna
Recipe- Easy Keto Lasagna– Hey Keto Mama
If you haven't been keen to try cauliflower (or maybe your family doesn't like it), this recipe will change your mind and theirs.
This easy keto lasagna is the ultimate indulgent keto dinner idea with a delicious meat sauce and a cheesy ricotta layer.
You won't even know you're eating cauliflower.
Cabbage Lasagna
Recipe- Cabbage Lasagna– Delish
Mixing cabbage, olive oil, and eggs, this beef lasagna is a good take on the classic.
Cabbage definitely makes for a tasty low carb pasta layer in this recipe.
Wrapping It Up
So, as you can see there are many different ways to eat the pasta and noodles you crave without quitting your keto diet weight loss journey.
All you need to do is think creatively and be willing to experiment with the astounding variety of low carb options for pasta out on the big world wide web.
Don't forget to tell us about your keto eating experiences and recommendations in the comment section. We would love to hear from you!
PIN it to save for later!