This site features ads and affiliate content. Please see our disclosure.
11 Gluten-Free Sugar-Free Donut and Pastry Recipes for a Ketogenic Diet
On a ketogenic diet, there comes a time when you begin to crave sugar less often and that's part of the magic of overcoming sugar addiction.
However, especially during the transition to ketosis state in your body, you may find the cravings for sweet do creep up on you. Or perhaps, you would love a healthy donut or pastry alternative every now and then.
Well, if you are a donut or a pastry lover and on a keto diet, this list is for you.
You will find a practical solution to your low carb dilemma after you're done reading this list of mouth-watering keto-friendly donut and pastry recipes. 
These recipes are great for birthdays, Christmas and the holiday season, and even if you want to bake something keto and take to work or party with you.
So why wait any further? Go ahead and try out this 11 delicious keto donut and pastry recipes and tell us what you think about them.
11 Gluten-Free Sugar-Free Donut and Pastry Recipes for a Ketogenic Diet
A low carb cinnamon sweet snack that is soft, chewy and delectable.
These pretzels are ideal for those lazy weekends or quick sweet craving satisfaction.
Full recipe from Butter Together Kitchen.
This donut recipe is all about the chocolate – an ideal low carb treat to indulge in, you won't get sick of this snack idea. Get the recipe from Keto Adapted.
Looking for simple 5-ingredient recipes to cover your keto breakfast, lunch, dinner and even dessert? We highly recommend Keto In Five. Give it to me now!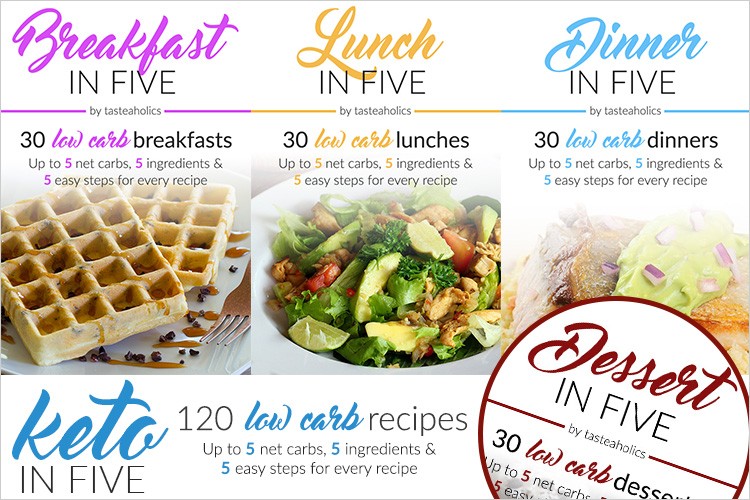 We shall not say goodbye to French beignets. Here is a keto specific sugary delight. These soft French beignets are ideal for your evening snacking and sweet cravings. 
Get the recipe from Low Carb Meal.
Give the child in you a surprise with the flavor burst of cream puffs but this time without the all the sugar and carbohydrates. 
Get the recipe from Keto Connect.
These gluten-free churro donuts recipe has won many hearts and it's no surprise.
For one, Paola from Gnom-Gnom offers you the easiest method of making a donut without all the hassle of achieving a perfect batter, kneading, and donut molds.
Yep, making these churros donuts should be on your keto to-do list. For the recipe, go to Gnom-Gnom.
You Might Also Like:
10 Keto Diet Tips for Faster Weight Loss
Keto Diet for Beginners – The Ultimate Guide
Keto Snack Recipes You Can Buy On Amazon
Low carb and grain free, this recipe is one favorite for all chocolate lovers. Spruced up with antioxidants, these keto chocolate donuts never fail to please.
Whether you're a diabetic, keto dieter or clean eater that still wants a chocolatey treat every now and then, you'll want to try this recipe.
Get the recipe from Simply So Healthy.
This is a great keto take on the traditional cinnamon bun donut. It also includes a simple glaze recipe that will rock your world.
Gluten-free, vegan, and no requirement for a fryer (yay!), these keto cinnamon buns are the ideal breakfast recipe. Indulge in them and stay in ketosis without a worry in the world. 
You will find this recipe at one of the best low carb dessert recipe hubs, The Big Man's World.
We usually just can't help but pick out a delicious recipe from All Day I Dream About Food when the only problem is being spoilt for choices. 
So today, we decided to go with these nut-free and dairy-free Lemon Poppyseed Donuts recipe.
Without the massive amounts of carbohydrate and refined sugars usually found in Danish treats, these are so perfect in texture and taste.
Take out the coconut flour you have yet to use, a keto-friendly sweetener and just a couple of other essentials, then you'll be good to go.
Get the recipe from Forest and Fauna.
Cinnamon sugar donuts that are not really sugary and way better for you than the traditional ones. What a dream! Here is the Keto Cinnamon Sugar Donuts by Mouthwatering Motivation.
It's not always easy to find a nice flavor combo when looking for a keto dessert. But these Spiced Baked Keto Donuts from Mad Creations Hub are worth trying ASAP.
You have nothing to lose – except 1 net carb per serving. It's a win-win. 
PIN it to save for later!