This site features ads and affiliate content. Please see our disclosure.
Easy Keto Recipes for Beginners: 17 Low Carb Recipes Anyone Can Make
Starting a keto diet for the first time and wondering what to eat on a low carb diet?
Well, you have come to the right place. Here we have rounded up a variety of easy low carb meals you can make quickly and enjoy immediately.
You can mix and match the various recipes (breakfast, snacks, lunch, dinner, and dessert) to suit your lifestyle. This list really makes it easy to create your own meal plan.
We hope it will help you kickstart your ketogenic diet on the right foot.
You may also wish to check out our free 7-day keto diet meal plan if you would like an even easier way to start a keto diet.
Starting a ketogenic diet
When first starting on a keto diet, you may feel overwhelmed by the drastic change to your usual lifestyle. If you're used to eating carb-heavy and sugary meals like most of us, eating extremely low carb will be a challenge, to say the least.
But it's not impossible. In fact, thousands of people make this lifestyle change and stick to it, while shedding unwanted pounds.
The main thing to remember is to keep it simple. Don't try to make fancy complicated low carb dishes in the beginning (unless you really want to!).
Instead, try these quick and easy recipes for low carb breakfast, lunch, dinner, snacks, and even dessert.
Take it one day at a time and try not to be too hard on yourself.
This post contains affiliate links. See full disclosure policy here.
Easy Keto Recipes for Beginners: 17 Low Carb Recipes Anyone Can Make
Holidays are particularly tough on keto dieters, so if you would like some excellent holiday recipes, I recommend The Keto Holiday Cookbook.
The Keto Holiday Cookbook is by far the best (and cheapest) way to get all the keto-version of delicious holiday meals to keep you on track these holidays. <<Click here to get instant access to The Keto Holiday Cookbook now.>>
The Keto Holiday Cookbook menu includes:
>30+ full classic holiday recipes made keto
>Appies, starters, sides, entrees, desserts, and more
>Shopping lists for your perfect event!
>Low-FODMAP, nut-, egg-, and nightshade-free options
>Standard and metric measurements, and so much more!
If you would like a simple meal plan that's done for you, be sure to check out our favorite affordable weekly keto meal plans here.
Another option to the weekly meal plans is the 5-ingredient recipe bundle covering all meals of the day. These are simple 5 or fewer ingredient recipes, each with less than 5g net carb per serving. Check out Keto In Five here.
Without further ado, here are 15 Easy Keto Recipes for Beginners on the Keto Diet.
Cauliflower Fried Rice – Hip2Save
Keto Steak Nuggets with Chipotle Ranch Dip – Health Starts In the Kitchen
Loaded Mashed Cauliflower Casserole – One Happy Housewife
Cauliflower Rice Pilaf – This Mom's Menu
Enjoy this superb easy and simple cauliflower rice pilaf as a side to your delicious keto meals, or as a stand alone meal. It has such an awesome taste and texture, that you won't want to miss out on it.
Keto Crepes – Ditch the Carbs
These delicious keto crepes can be made sweet or savoury, whatever your preference. Serving it with sugar-free chocolate spreadover would be amazing. But you can add cheese, avocado or ham to enjoy them for lunch.
Italian Beef Zucchini Boats – Eat the Gains
You can make this superb keto dish with only 5 ingredients. This flavorful Italian Beef Zucchini Boats make a simple gluten free and low carb meal perfect for your dinner or lunch.
Creamy Chicken Potpie – Low Carb-Ology
Stuffed Chicken Breast – Essential Keto
This stuffed chicken breast recipe is one of the easiest recipes in this roundup. The chicken breasts are stuffed with goat cheese and a hint of vinegar makes this dish super tasty.
Chili Lime Steak Foil Packs – Life Made Keto
This chili lime steak recipe is perfect for the grilling season and camping out. And it's simple (yes we keep emphasizing it and it's true for all these recipes!).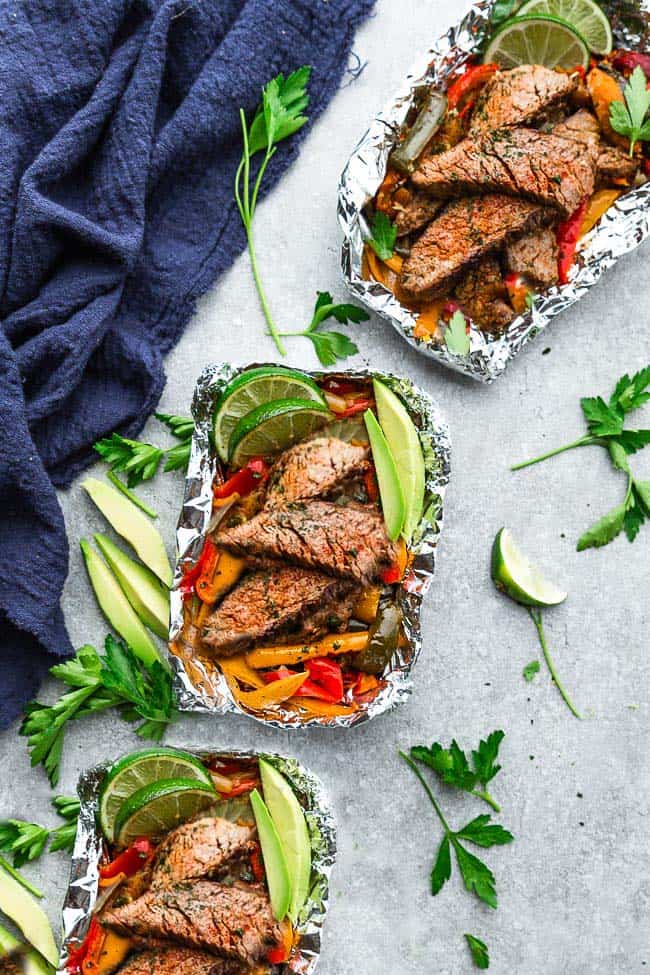 Bacon Wrapped Pork Chops – Dancing Through the Rain
Keto Dessert Recipes to Try
Now that we've covered savory keto meals you can enjoy for breakfast, lunch or dinner, let's get stuck into low carb desserts. These sugar-free desserts will be enjoyed by anyone (keto or not) you share them with (if you do actually share!).
Brownie Cheesecake – All Day I Dream About Food
An easy and delightful cheesecake to enjoy. There is a video for the recipe too if you like to see versus read the instructions.
Creamy No-Churn Chocolate Ice Cream – Gnom-Gnom
Keto Strawberry Cheesecake Popsicles – All Day I Dream About Food
It is the best Keto recipe involving the strawberries in it. Enjoy this tasty treat this summer!